Paddles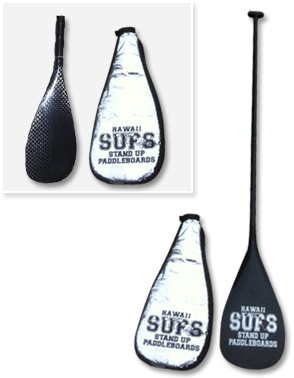 Our Paddle, blade, shaft and T-grip handle are all made from 100% carbon fiber. The paddle blade is 8.25 inches wide and 19 inches long with a slight concave in the blade. The length of the shaft, including the paddle blade to the top of the handle is 88 inches. The T-grip handle is removable so that the paddle shaft can be cut to individual heights. The Paddle blade cover is a vinyl coated with a nylon shiny silver surface. It comes with a 9-inch mesh bag with a Velcro closure to store wax, FCS fin key & more.
Bags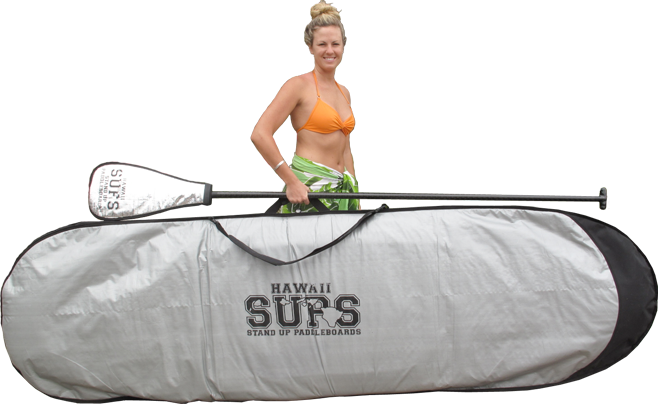 Hawaii SUPs Accessories - Stand up Surfboard Bag

Our padded vinyl coated nylon shiny silver surface reflects sunlight. All our bags are custom fit to each size SUP. Board bags have a slit for the thruster box fin and inside the bag is a pocket with a Velcro closure to hold extra fins and travel gear. All bags come with a shoulder strap and a center handle for easy carrying.
Leashes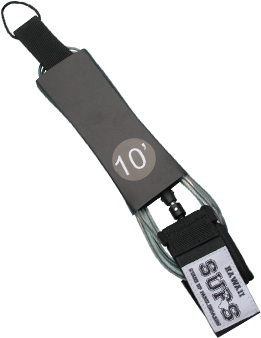 Our leashes are made with dual cord for maximum strength and flexibility. The leashes are dual swivel at the rail saver and at the ankle so the leash does not easily tangle. The ankle leash is made of soft wet suit covered EVA foam for strength and comfort. The Velcro at the ankle is 7 ¼ inches long with the logo sized at 3 inches by 2 inches. The rail saver is triple wrapped Velcro for maximum strength. A leash rope is provided with all leashes for easy board attachment.
Fins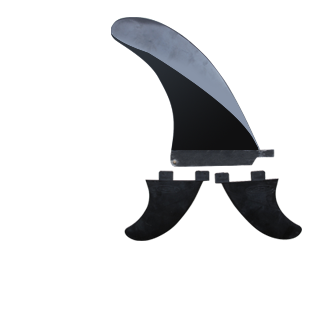 Thruster Fin (2 and 1) set up. 2 - 3 1/2" composite FCS side fins and a 9-inch fiberglass thruster box fin.